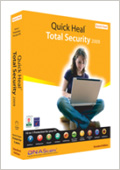 Antivirus : Detects and removes viruses, worms and trojans automatically. Protects your files, scans and cleans infection from email attachments and Internet downloads automatically.
Antispyware : Blocks spywares before they get installed on your PC. Protects your privacy by detecting and cleaning spywares and blocking their activities of identity theft automatically.
Firewall : Quick Heal Firewall Professional powered by Agnitum Outpost locks hackers and thieves out of your PC. Delivers total protection against known and unknown internal and external network based attacks.
AntiSpam : Blocks spam mails, phishing attack mails, junk mails and porn mails before they reach your inbox.
Anti-Phishing : Automatically scans all accessed web pages for fraudulent activity protecting you against any phishing attack as you surf the internet. Prevents identity theft by blocking phishing websites. So you can shop online use Internet banking and surf the websites safely.
Data Theft Protection : Prevents unauthorized person from copying any data/files from your system to removable drives like pen drive or other mass storage devices.
Privacy Protection : Cleans all history logs and activity trails by removing tracks of your PC usage. Also removes history and recently opened files list of various applications and protects your privacy.
PC2Mobile Scan : Scan and clean viruses and spywares from your mobile phones, PDAs and smart phones by just connecting it to your PC.
AntiMalware : A new advanced malware scanning engine scans registry, files and folders at lightening speed to thoroughly detect and clean Spywares, Adwares, Roguewares, Dialers, Riskwares and lots of other potential threats in your system.
Anti-RootKit : Detects and cleans rootkits proactively by doing deep system scan. Scans running processes, registry and file system for any suspicious rootkit activity that is kept hidden in the system.